The R&G MetalShaping team had the pleasure of participating in the Metal Madrid 2022 edition, which took place on October 19 and 20 at IFEMA, Madrid. This fair is one of the most important in the industrial sector in Spain and is a unique opportunity to learn about the latest trends and innovations in technology and industrial machinery.
What is Metal Madrid?
Metal Madrid is the leading fair on the world of metal where hundreds of exhibitors from different areas of the industry meet, from manufacturers to suppliers and buyers, to present and discuss the latest trends and industry news: machinery, subcontracting, supplies, engineering, materials and treatments, among others.
In addition, numerous conferences and workshops are held in which industry experts share their knowledge and experiences on topics such as Industry 4.0, cybersecurity and sustainability. Visitors can network with professionals in their sector, see machines in operation and be able to attend training workshops on site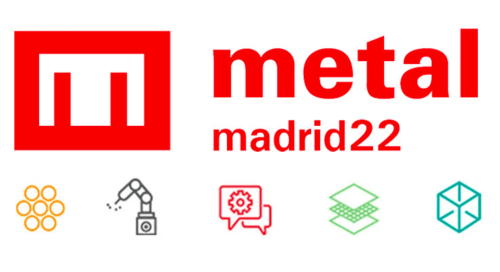 Why was R&G Metal Shaping in Metal Madrid?
At our booth, we presented our wide range of services and products to a global audience, allowing us to establish business relationships with companies from different countries and learn from other industry experts. We also had the opportunity to learn about the latest trends in technology and industrial machinery, which will allow us to improve and expand our services in the future. For that we show some of our ways of working such as:
Fabricación de piezas personalizadas: En Metal Madrid, mostramos nuestro servicio de fabricación de piezas de metal personalizadas. Contamos con un equipo de expertos en diseño y producción que pueden trabajar con nuestros clientes para crear piezas únicas y adaptadas a sus necesidades específicas. Desde la elaboración de planos hasta la producción y acabado final de la pieza, nuestro equipo se encarga de todo el proceso de fabricación. Además, disponemos de las últimas tecnologías en maquinaria para poder realizar nuestros servicios con la máxima calidad.
Asesoramiento técnico: Por último, mostramos nuestro servicio de asesoramiento técnico. Nuestro equipo de expertos puede ayudar a nuestros clientes a elegir la mejor solución de fabricación de piezas de metal para su proyecto específico, asesorándoles sobre los materiales, técnicas y procesos más adecuados. También podemos ayudar en la optimización de los procesos de producción y en la selección de la maquinaria industrial adecuada para cada proyecto.
Participating in Metal Madrid 2022 has been an enriching experience for our team, which has allowed us to acquire new knowledge and establish important business relationships. We hope to be able to continue participating in future editions of this important fair and to continue providing our services and products to an ever-widening audience.
Thanks to everyone who visited us at our stand!